Desperation, Part                                                                    Sunday, August 31, 2014
"A Rescue Mission"
And everyone who calls on the name of the Lord will be saved; for on Mount Zion and in Jerusalem there will be deliverance, as the Lord has said, even among the survivors whom the Lord calls.  Joel 2:32 (NIV)
Different ways to see Christianity and the church.
It's a set of doctrines
It is a lifestyle
It is a social gathering
It is a good influence
It is a RESCUE MISSION.
The Most Dangerous Occupation
The movie, The Perfect Storm, well described the dangers of the fishing industry through the eyes of the crew of the fishing boat, the Andrea Gail.
Out of their need to bring home an excellent catch of fish, the captain and crew decide to risk everything and travel as far as the remote but fertile fishing ground called the Flemish Cap. It is an especially dangerous trek during the unpredictably stormy month of October.
On their way back to Gloucester, Massachusetts, the Andrea Gail encounters the "perfect storm" of 1991 and is never heard from again.
While improvements in shipbuilding, navigational technology, weather-reporting and rescue support have made boating safer, fishing has become, if anything, a more lethal occupation, killing more of its workers per capita than any other job in the United States.
"There are many kinds of work that are dangerous, but one of the interesting things about fishing is that it really hasn't changed much over time," says The Perfect Storm author Sebastian Junger. "It's been mechanized, of course, but the basic reality of going to sea for months at a stretch is the same as it was 100 years ago. You're way beyond help from anyone else; you're on your own. I think that forms a certain kind of character. Not only does everyone know someone who has died at sea but everyone who works in the fishing industry has almost died. Every single fisherman you talk to has almost gotten nailed at one time or another."
It takes courage to be a fisherman. And it takes courage to fish for the souls of people.
Story of Zacchaeus.
For the Son of Man came to seek and to save the lost.  Luke 19:10 (ESV)
16 "For God so loved the world, that he gave his only Son, that whoever believes in him should not perish but have eternal life. 17 For God did not send his Son into the world to condemn the world, but in order that the world might be saved through him. 18 Whoever believes in him is not condemned, but whoever does not believe is condemned already, because he has not believed in the name of the only Son of God.  John 3:16-18 (ESV)
Summary of Gospel:  this is the reason it's important.
It is PERSONAL
Illustration:  Barney and Gomer
'The Andy Griffith Show': 'We Are the Police'
Stephen Mansfield, Mansfield's Book of Manly Men (Nelson, 2013), page 12 | posted 6/09/2014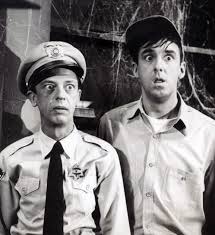 In a classic episode from the classic TV series from the 1960's, The Andy Griffith Show, Andy Taylor, the sheriff of Mayberry, is out of town. His deputy, Barney Fife, is in charge, and he has deputized the local mechanic who is named Gomer. The two deputies are walking down the street one evening when they notice that someone is robbing the town's bank. They hide behind a car. They are afraid and don't know what to do. Finally, Gomer looks at Barney and says excitedly, "Shazam! We need to call the police."
In utter exasperation, Barney shoots back: "We are the police!"
19 My brothers, if anyone among you wanders from the truth and someone brings him back, 20 let him know that whoever brings back a sinner from his wandering will save his soul from death and will cover a multitude of sins.  James 5:19-20 (ESV)
24 And the Lord's servant must not be quarrelsome but must be kind to everyone, able to teach, not resentful. 25 Opponents must be gently instructed, in the hope that God will grant them repentance leading them to a knowledge of the truth, 26 and that they will come to their senses and escape from the trap of the devil, who has taken them captive to do his will.  II Timothy 2:24-26 (NIV)
It is PRIORITY
Story of Dunkirk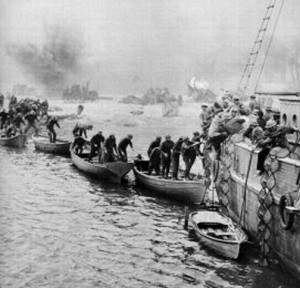 Britain's Ragtag Armada Accomplishes Remarkable Rescue
In The Word and Power Church, Doug Banister writes:
The spring of 1940 found Hitler's panzer divisions mopping up French troops and preparing for a siege of Great Britain. The Dutch had already surrendered, as had the Belgians. The British army foundered on the coast of France in the channel port of Dunkirk.
Nearly a quarter million young British soldiers and over 100,000 allied troops faced capture or death.  The Fuerhrer's troops, only a few miles away in the hills of France, closed in on an easy kill. The Royal Navy had enough ships to save barely 17,000 men, and the House of Commons was told to brace itself for "hard and heavy tidings."
Then while a despairing world watched with fading hope, a bizarre fleet of ships appeared on the horizon of the English Channel. Trawlers, tugs, fishing sloops, lifeboats, sailboats, pleasure craft, an island ferry named Gracie Fields, and even the America's Cup challenger Endeavor, all manned by civilian sailors, sped to the rescue. The ragtag armada eventually rescued 338,682 men and returned them home to the shores of England, as pilots of the Royal Air Force jockeyed with the German Luftwaffe in the skies above the channel. It was one of the most remarkable naval operations in history.
4 "Suppose one of you has a hundred sheep and loses one of them. Doesn't he leave the ninety-nine in the open country and go after the lost sheep until he finds it? 5 And when he finds it, he joyfully puts it on his shoulders 6 and goes home. Then he calls his friends and neighbors together and says, 'Rejoice with me; I have found my lost sheep.' 7 I tell you that in the same way there will be more rejoicing in heaven over one sinner who repents than over ninety-nine righteous persons who do not need to repent.  Luke 15:4-7 (NIV)
Video:  The Great Raid
"The Great Raid": The Glory of the Mission
The movie The Great Raid is based on the true story of the largest mission to rescue American POWs in WWII. Over 500 American captives had been taken by the Japanese to the brutal Cabantuan camps in the Philippines. Lt. Colonel Mucci (played by Benjamin Bratt) led his battalion deep through enemy territory to set them free.
When Colonel Mucci and his troops finally sneak into view of the POW camp, they realize that massive Japanese reinforcements are headquartered just behind their position. Frustrated and discouraged, Mucci stomps off into the woods and leans against a tree to consider his options.
Captain Prince tentatively approaches, and the two soldiers have a heart-to-heart conversation that captures just how important their mission is.
Mucci: The others are beginning to lose faith, aren't they?
Prince: They won't let you down.
Mucci: It's not a question of letting me down. We worked hard to raise a fine unit. They deserve their shot at glory.
Prince: I don't suppose many of us are in this for the glory, sir.
Mucci: I'm not talking about publicity, Bob. I'm talking about the kind of glory you carry inside you the rest of your life, knowing you've done something worth remembering, something that made a difference. The only recognition I want is from those boys in that camp. Nothing in our lives will ever be as important as this.
(Elapsed Time: Chapter 13, 01:19:02 – 01:20:15)
Additional note:  It is your personal priority
Korean Ferry Sinking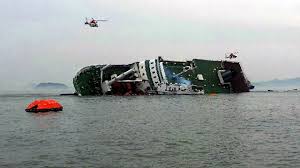 Chaos Rules as Korean Ferry Capsizes
Early in the morning on April 16th, the ferry capsized while carrying 476 people (passengers and crew), mostly high school students. About a third of the passengers got out alive, but as of April 30th authorities had confirmed over 210 deaths. Prosecutors detained the ship's captain, Lee Jun-seok, who apparently donned an orange life vest and stepped to the safety of a rescue boat, even as hundreds of his passengers remained trapped inside. The ship's communication officer, Mr. Kang, said, "It was chaotic because everyone was just busy saving themselves and many people weren't pulling up the people below." But there were a few exceptions. "Park Ho-jin, 16, found a 6-year-old girl standing alone and wet on the side of the ship as it was sliding slowly into the water. She had been left there by her older brother who went back into the ship to hunt for their mother. Mr. Park swept the child into his arms and delivered her to rescuers who had pulled a boat alongside the ship. Mr. Park made it onto a later rescue boat."
It is PRESENT
Do you not say, 'There are still four months and then comes the harvest'? Behold, I say to you, lift up your eyes and look at the fields, for they are already white for harvest!  John 4:35 (NKJV)